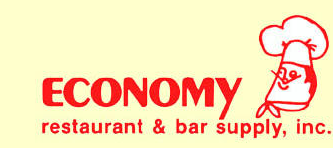 Payment
We accept Visa, MasterCard and Discover
Note: When placing credit card order please enter your billing address as the address where you receive your credit card statement.
If you would prefer to pay by check or money order you will need to submit your order and then print out the confirmation page and send it along with your payment to:
Economy Restaurant and Bar Supply, Inc.
69-71 N. 2nd Street
Philadelphia, PA 19106
Shipping
Next to every item in our catalog is an area that says 'Shipping Method' which will either say 'UPS' or 'Common Carrier'.
The shipping cost for items that ship via UPS will be automatically calculated based on your zip code when you submit your order.
For Items where the shipping type is 'Common Carrier' the price of shipping will not be automatically calculated when you submit your order, however after submitting your order you will be contacted via e-mail or phone with shipping prices before we actually process your order.   If you would like a quote on shipping for 'Common Carrier' items before you place your order, please e-mail us at [email protected] or call 1-800-220-2015.
Return Policy
Merchandise can be returned within 7 days from receipt of shipment. All returns will incur a 20% restocking fee and buyer will be responsible for shipping both ways. Contact Economy for a 'Return Authorization'.
We offer several options for you to place orders from Economy:

Option 1 – Shopping Cart System
This is the easiest method for ordering from our site. In a nutshell, you pick the items that you want to order and the system automatically totals your order. Once you fill out payment and shipping information the correct shipping charge will be displayed and upon your confirmation the order is processed. You will receive a confirmation E-mail regarding your order shortly after completion.

The Economy Restaurant Supply Inc.'s shopping cart system provides the newest technology in secure ordering to protect our customers against fraud.  We are confident that your credit card number and personal information are highly secure. Our  ordering system uses a Secure Sockets Layer (SSL) security system, which is widely accepted as the Internet security standard. When you submit your credit card number, it is encrypted, meaning your information is scrambled and secure as it travels across the Internet. If you still have hesitations about sending your credit card number you can always select the 'Call for CC' option on the order page and one of our employees will call you to verify your credit card information.
Option 2 – E-mail, Fax, or Phone In your order
Of course you can always call in, fax, or e-mail us your order at the following locations:

Phone: 1-800-220-2015
In Philadelphia: 215-627-3258
Fax: 215-627-7876
E-mail: [email protected]